Lee's Summit fitness friends, here are some tips to survive a Super Bowl Party.  Life Transformations Personal Trainer, Molly Wichman, shares clean eating tips below.
Are you ready for the big game?  You don't have to let the big game take out your waistline.  Enjoy the game and spending time with friends while eating healthy and tasty foods.
Game food is usually greasy or salty or sweet…but pretty tasty.  Plan ahead and put out or take some healthy food for your friends and family.
There is always the classic veggie tray, fruit tray, wheat crackers, low fat cheese, mixed nuts, and celery boats.  But, here are some different recipes to spice up your Game Day food.  So go cheer on your favorite team and enjoy some tasty food!
Spinach Dip with Pine Nuts
Ingredients
1 cup Greek-style plain nonfat yogurt
2 tablespoons extra-virgin olive oil
1/2 small sweet onion, minced
1/2 teaspoon ground cumin
1/2 teaspoon ground coriander
1/2 teaspoon pure chili powder
One 10-ounce package frozen whole-leaf spinach, thawed
DIRECTIONS
Scoop the yogurt into a paper towel-lined strainer set over a bowl. Let stand at room temperature for 30 minutes. You should end up with a 1/2 cup yogurt.
Meanwhile, heat the olive oil in a small skillet. Add the pine nuts and minced onion and cook over high heat, stirring frequently, until the onion is softened and lightly browned and the pine nuts are golden, 4 to 5 minutes. Add the cumin, coriander, chili powder and cayenne and cook, stirring, for 1 minute. Scrape into a bowl.
Using your hands to squeeze the spinach until very dry, then coarsely chop it and discard any stringy pieces. Stir the spinach and yogurt into the onion mixture and season with salt.
Serve With
Toasted baguette slices, wheat crackers or pita bread, fresh vegetables, or use as a condiment for chicken breast.
Adapted from www.foodandwine.com
Turkey and Bean Chili
INGREDIENTS
1 cup prechopped red onion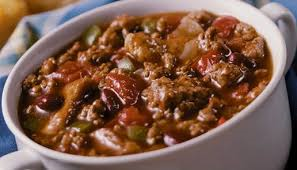 1/3 cup chopped seeded green pepper
1 teaspoon  minced garlic
1 1/4 pounds ground turkey
1 tablespoon chili powder
2 tablespoons tomato paste
2 teaspoons dried oregano
1 teaspoon ground cumin
1/4 teaspoon salt
1/4 teaspoon black pepper
1 (19-ounce) can cannellini beans, rinsed and drained
1 (14.5-ounce) can diced tomatoes, undrained
1 (14-ounce) can fat-free, lower-sodium chicken broth
1/2 cup chopped fresh cilantro
DIRECTIONS
Heat a large saucepan over medium heat. Add first 4 ingredients; cook for 6 minutes or until turkey is done, stirring frequently to crumble. Stir in chili powder and next 8 ingredients (through broth); bring to a boil. Reduce heat, and simmer 10 minutes. Stir in cilantro.
Recipe adapted from www.cookinglight.com
Turkey Cucumber Roll up
INGREDIENTS
3 medium cucumbers (each will yield about 6 slices)
¼ cup store-bought basil pesto
6 slices low fat Mozzarella Slices, cut into ½ inch strips
6 oz deli smoked turkey breast, shredded
1 bell pepper, thinly sliced into matchsticks
1/2 cup spinach, shredded
salt and pepper, for seasoning
DIRECTIONS
Slice the cucumbers lengthwise on a mandoline at about a 2mm setting. If you don't have a mandoline, you can always use a vegetable peeler. Place the cucumber slices on parchment paper and pat dry with a paper towel.
Spread about 1 teaspoon of pesto on each cucumber, then evenly distribute cheese, turkey, bell pepper and spinach on each. Sprinkle with a little salt and black pepper. Roll up and place seam down. If you want an even nicer presentation, you can stick a toothpick in the middle for easy appetizers! Serve with extra pesto or sauce of choice. Makes about 18 rolls.
Adapted from www.ambitiouskitchen.com