Life Transformations Personal Training in Lee's Summit, MO shares healthy recipes and tips with clients and the community.  Try out a quick and healthy recipe for Greek Yogurt Ranch Dip.  This recipe is super easy to make and tastes great.  You can make ahead and store in the fridge.  Great to top salads, dip fresh veggies, add to sandwiches or wraps, or even replace high calorie cheese in casseroles.  Who doesn't like ranch?  This is a family friendly recipe.
Greek Yogurt Ranch Dip
Ingredients
1 cup plain, non-fat Greek yogurt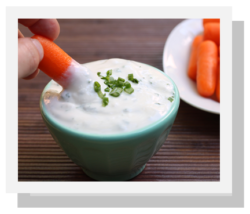 3/4 teaspoon garlic powder
1/2 teaspoon onion powder
1/2 teaspoon dried dill
1/4 teaspoon kosher salt
1/4 teaspoon Worcestershire sauce
1/8 teaspoon cayenne pepper
Fresh, chopped chives garnish
Directions
In a medium bowl, stir together all of the ingredients: Greek yogurt, garlic, onion, dill, salt, Worcestershire, and cayenne. Garnish with fresh chives and serve. Store leftovers in the fridge.
*Recipe from http://wellplated.com