NPC Kansas City bodybuilding, figure, fitness, bikini, and physique athletes, here is some information on the upcoming NPC Midway Championships in Wichita, KS on May 16, 2015.
ENTRY:  Please note that you can either print out the entry and mail it in along with your entry fee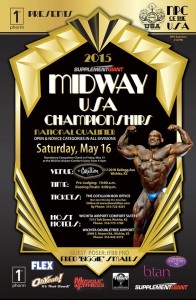 OR you can fill out the entry, email it to us at NPCMIDWAY@aol.com and we can send you a PayPal invoice to pay for your entry fees.
To avoid a late fee – entries need to be mailed on or before May 4 – HOWEVER – we will accept entries all the way through the Mandatory Competitor Check-in on Friday, May 15 at the Comfort Inn Suites Airport in Wichita. Thanks! Here is a link to ONLINE ENTRY.
TICKETS: Below is the link to purchase PRE-JUDGING TICKETS for the 2015 NPC Midway USA on Saturday, May 16 – All tickets to the pre-judging are General Admission
https://www.ticketfly.com/purchase/event/816521
MAKEUP: Ladies – Melissa Britt Rogers and Shannon Calvin will have you looking absolutely gorgeous on stage  Book your appointments today – they are awesome!!!!!! 417-230-4630 to book your appointment!!!
TANNING: B Tan is the offical tanner of the NPC Midway USA Championships.  Book tans at www.btanstl.com
PHOTOS: Here's a link for our official Midway USA photographer: www.dougjanzphoto.com
HOTEL INFO:
Comfort Suites Airport
7515 W Taft
Wichita, KS 67209…
(316)773-1700
Welcome Midway USA to Comfort Suites Airport! We provide numerous amenities, inviting accommodations and friendly service. This ALL SUITES, Wichita hotel is close to the Mid Contientent Airport and within 5 miles of Downtown Wichita as well as the Cotillion.
Hotel features include:
Free full Hot Breakfast Meeting Space
24 Hour Fitness Center Free Wireless high-speed Internet access Indoor Pool/ Hot Tub refigerators & microwaves in ea suite
Travelers will welcome additional convieniences like the on-site business center and meeting room where you will continue your check in process after checking in with the front desk.
For added convenience, this hotel has a mini shop and a 24 hour free laundry facility. Many restaurants are within walking distance of the hotel as well. Before you head out to dine stop by the front desk to get coupons and/or recommendations!
All spacious guest suites are designed to make you feel at home and provide features like microwave, refrigerator, 2 flat screen TV's, curved shower rod, hair dryer, desk, iron and ironing board. Ample on site parking is provided. We do have free airport shuttle and can arrange low cost transportation if needed to the event. The entire property is breathe easy and smoke free. The first floor is pet friendly for an additional fee.
Group reservation and additional personal assistance with your special event provided by Kaysue Hall, Director of Marketing. Contact her today for special group rates and meeting facility details.
There's no place like the Comfort Suites hotel to call home in Wichita Kansas. Our countless amenities and our outstanding staff will make your stay memorable. Make a reservation with us today!
Team PROformations Athletes:  Make sure to get all of your reservations completed in a timely manor.  If you have questions, contact Molly Wichman at molly@lifetransformations-kc.com.