Lee's Summit fitness friends, I have the perfect little fieldtrip for you and your family.  Take a visit to Benny's Berries U Pick Strawberry Patch just south of Kansas City, MO.  I went to pick strawberries at the end of the season and had a blast with my little guy.
We were first time pickers, but got all of the directions we needed.  Since it was the end of the season, we had to look under leaves and go to the back rows, but we got a box full of bright red strawberries.  Now, the fun doesn't stop here.  We went home to wash our strawberries and found some tasty recipes to use our fresh pick.  Some recipes were healthy, and some I "healthied-up" aka my version of modifying a recipe to make it healthy.  Here is a collection of what we tried.  Now, all of these recipes are easy.  Make sure to grab a step stool and involve the kiddos.
Fresh Strawberries
Eating strawberries plain is delicious.  Grab and go snack.  If you want to try a little dessert, add light Cool Whip to plain strawberries…Mmmmm good.
Take whole strawberries, dip in vanilla Greek yogurt, place on wax paper, freeze for 3-4 hours, enjoy a fresh and healthy treat.
Strawberry Lemonade Pops
Puree strawberries in blender or food processor (I used Magic Bullet), add lemonade (or Crystal Light), pour in ice cube trays or popsicle molds, add stick or toothpick, freeze till set.  Enjoy a refreshing popsicle!!
Strawberry Banana Bread
Ingredients
½ cup (1 stick) butter, softened
1 cup granulated sugar
2 large eggs, beaten
3 ripe bananas, mashed
2 cups flour
1 teaspoon baking soda
½ teaspoon salt
1½ cups fresh strawberries chopped & tossed in 1 Tablespoon of flour
Directions
Preheat oven to 375F degrees. Spray two 9×5 loaf pan with nonstick spray. Set aside.
In a large bowl, using a mixer, cream butter and sugar together until light and fluffy.
In a small bowl, beat eggs using a fork. Add eggs to sugar mixture and beat until combined. Add mashed bananas and mix until combined.
Combine all dry ingredients: flour, baking soda, and salt. Slowly add dry ingredients to banana mixture and mix until flour is just combined. DO NOT OVERMIX! Fold in floured covered strawberries.
Pour batter into prepared loaf pans and bake at 375F for 15 minutes. REDUCE heat to 350F and bake for an additional 30 minutes until edges are slightly brown or until toothpick inserted into center comes out clean. Let cool completely before removing from loaf pans.
*I kept one loaf to enjoy and placed the other loaf in the freezer.
*Recipe from www.therecipecritic.com
Strawberry Frozen Yogurt
Ingredients
4 cups frozen strawberries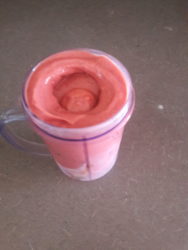 3 Tablespoons honey
1/2 cup plain Greek yogurt
Directions
Combine frozen strawberries, honey, yogurt in food processor or blender (I used Magic Bullet), and blend until creamy.  Enjoy this refreshing and cool treat.  Can store frozen yogurt in the freezer.
*Recipe from www.justataste.com
This was a fun little field trip for my family.  Go out and try out Benny's Berries U pick strawberry patch to have your own adventure.  Life Transformations Personal Training loves to share healthy tips and recipes.  Check out our NEWS page for more. Have a good Summer!!