Life Transformations Fitness in Lee's Summit is having a Royals Sale!  Join with a friend and save!  Share with a friend and come on in to get started.  Call 816-272-0159 or email info@lifetransformations-kc.com.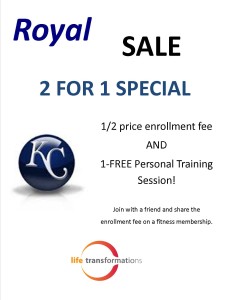 Lee's Summit Smoothie Fans…Life Transformations Fitness cheers on the KC Royals in the World Series!  Join us for Happy Hour at the Fit Bar during the World Series Games.  Try a Royals Smoothie!  Limited time Flavor!
What to know more about Life Transformations Fitness? We are located in North Lee's Summit one block South of the Woods Chapel and Ralph Powell Road intersection.  Perfect for Lakewood, Lee's Summit, Independence, Kansas City and Blue Springs residents. We are a quick 5 to 10 minutes from most parts of Lee's Summit.  Stop by to check it out or contact molly@lifetransformations-kc.com or robert@lifetransformations-kc.com.