Life Transformations Personal Training in Lee's Summit, shares tips on coconut oil.  Check out this Personal Trainer Tip!
Have you heard of coconut oil?  It is pretty trendy in the health and wellness world.  This product is trendy…but good.  Coconut oil is one of the few foods that can be classified as a superfood.  It has many great health benefits.  Coconut oil is a fat, but a healthy fat.  Read up on some of the health benefits of coconut oil, and some different uses that may be a surprise.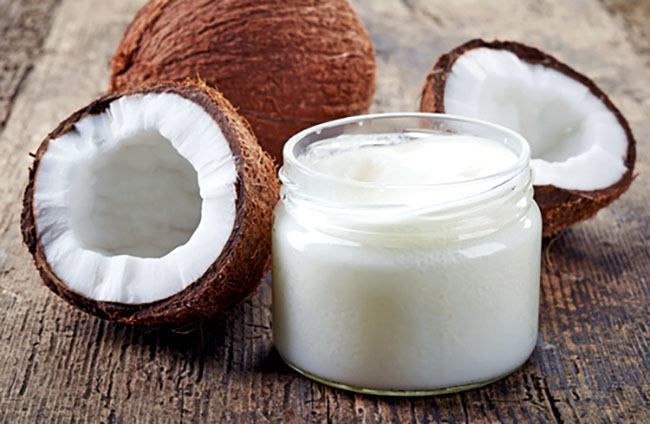 Coconut Oil for Health
Coconut oil is one of the richest sources of saturated fat, but not the unhealthy saturated fat.
According to Kris Gunners with Nutrition Authority, "It contains so-called Medium Chain Triglycerides (MCTs) – which are fatty acids of a medium length. Most of the fatty acids in the diet are long-chain fatty acids, but the medium-chain fatty acids in coconut oil are metabolized differently. They go straight to the liver from the digestive tract, where they are used as a quick source energy or turned into so-called ketone bodies, which can have therapeutic effects on brain disorders like epilepsy and Alzheimer's."
Coconut oil, like other fats, can help reduce hunger.  Adding coconut oil into your daily breakfast routine can leave you feeling fuller during the day and reduce hunger pains.  What does staying on track lead to…weight loss. So, adding some fats in your diet can lead to reducing body fat.
Do you have high cholesterol levels?  Again, coconut oil may be something for you. According to Kris Gunners with Nutrition Authority, "Coconut oil is loaded with saturated fats, which actually do not harm the blood lipid profile like previously thought. Studies in both humans and rats show that coconut oil improves important risk factors like Total, LDL and HDL cholesterol, which may translate to a reduced risk of heart disease."
Uses for Coconut Oil
Now you may have seen coconut oil used in other products as well.  Shampoos, conditioners, lotions, and many more products are now advertising "Includes Coconut Oil." It may seem odd to have a food product in your beauty product, but there are many great uses for coconut oil.
According to http://wellnessmomma.com, there are many great uses for coconut oil. Some of these may be a surprise, but read up and learn some coconut oil tips.
In cooking as a great oil with a high smoke point. Great for baking, stir-fry's or as a dairy free replacement to butter.
Added to foods or drinks daily for energy
As a coffee creamer when emulsified into coffee
On the skin as a basic lotion
In homemade lotion bars for soft, smooth skin
In homemade deodorant or deodorant bars
As an eye-makeup remover
As a cloth diaper safe diaper cream (just rub on baby's bottom)
In making your own toothpaste
To lighten age spots when rubbed directly on the skin
To prevent stretch marks during pregnancy
To support healthy thyroid function
To help increase sun tolerance and avoid burning
As a naturally SPF 4 sunscreen
In homemade lotion recipes
As a delicious tropical massage oil
It's high Lauric acid and MCFA content helps boost metabolism
A tiny dab rubbed on your hands and then through hair will help get rid of frizz
In homemade soap for laundry
Mixed with equal parts sugar for a smoothing body scrub (use in the shower)
Rubbed on lips as a natural chap stick
Topically, can help skin heal faster after injury or infection
As an incredibly intensive natural conditioner- Rub into dry hair, put a shower cap on and leave for several hours
Rub coconut oil on the inside of your nose to help alleviate allergy symptoms
Can help improve cholesterol ratios
Blend a tablespoon into hot tea to help speed recovery from cold or flu
In Homemade Natural Bug-Off Lotion Bars
As a replacement for vegetable oils in any recipe or in cooking
Can help reduce appearance of varicose veins
After initial heat is gone, can help speed healing of sunburn
Is an immediate source of energy when eaten that isn't stored as fat
As a natural shave cream and after shave lotion
To season cast iron skillets
It's anti-inflammatory properties can help lessen arthritis
Can reduce the itch of mosquito bites
Can help resolve acne when used regularly
Can be rubbed into scalp daily to stimulate hair growth
A small amount can be rubbed into real leather to soften and condition (shiny leather only… test a small area first)
Mixed with salt to remove dry skin on feet
Can help improve sleep when taken daily
To dilute essential oils for use on skin
A tablespoon melted into a cup of warm tea can help sooth a sore throat
For pets struggling with skin issues when used externally
As a completely natural baby lotion
On hands after doing dishes to avoid dry skin
Many use it as an anti-aging facial moisturizer
Can relieve the pain of hemorrhoids when used topically
Can boost circulation and help those who often feel cold
On cuticles to help nails grow
Rub into elbows daily to help alleviate dry, flaky elbows
Whipped with shea butter for a soothing body balm
Naturally clears up cold sores
Now that we are familiar with coconut oil, pick some up the next time you are at the store.  Most grocery stores, health markets, wholesale stores, and supplement stores carry coconut oil.  It is pretty cost efficient.